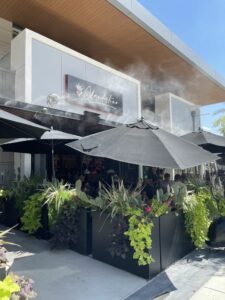 Nestled in the heart of Palm Springs, Clandestino Restaurant is a hidden gem that captures the essence of fine dining with a touch of mystery.
Crafted by the visionary culinary geniuses that have created phenomenal cuisine manifested in French countryside-inspired FARM; Jalisco -style Mexican restaurant, Tac/Quila; intimate small plate haven in Front Porch, comes Clandestino. Clandestino offers authentic, elevated Mexican/fusion food fare and a unique Latin American experience for those wishing to dine in, take out, or dine al fresco under the misting fans.
When entering the cantina, the dark ceilings, walls and floor are accented by lush, colorful seating areas, highlighting the spectacular art collection and of course, the massive back bar.
Dimmed lighting, plush furnishings, and an eclectic blend of modern and vintage décor created an atmosphere that was both inviting and enchanting. The restaurant's commitment to maintaining an air of secrecy adds an element of excitement to the dining experience.
But it's truly the outdoor patio that shines. Clandestino opens up to the foothills of the breathtaking San Jacinto Mountains, the atmosphere is modern and appealing. Guests can experience Palm Springs at its best from either the beautiful outdoor dining space, stocked with misting fans, or the fully stocked cantina, which opens to the outdoors.
According to reviews, the outdoor dining space is spectacular with "misting fans to make the desert heat 'barely noticeable'", according to reviews.
The menu at Clandestino is a culinary masterpiece, curated by a talented team of chefs who draw inspiration from global cuisines with attention to wine pairings to suit every palette. Each dish is a work of art, presented with meticulous attention to detail.
Our Palm Springs Taste Team Recommends a "Clandesestino" Shared Menu:
Beer Tempura Avocado Bites
With pickled tequila onions and spicy aioli
Grilled Shrimp
With a chipotle marinade, cabbage, pico de gallo, chipotle mayo and avocado, in a corn tortilla
Trio of Quesadilla
One shrimp with house-made flour tortilla, one birria (short rib) with house-made corn tortilla, and one squash blossom with house-made corn tortilla and served with pico de gallo, salsa verde and bean dip
Grilled Lobster Tail Tacos
Lobster tail grilled with chile oil, two house made flour tortillas, cabbage, pico de gallo, and avocado slices
Followed by an exquisite dessert featuring:
Fresh Cinnamon Churro Ice Cream Sandwich
or
El Guero
Rum, tres leches, amaro, simple syrup topped with vodka and vanilla infused whipped cream "for those who dare to drink their dessert."
What truly sets Clandestino apart is its impeccable service. The staff is attentive, knowledgeable, and passionate about creating a memorable dining experience. They effortlessly strike a balance between being attentive and allowing guests to savor their meals in peace.
Clandestino Restaurant in Palm Springs is a testament to the idea that the best things are often hidden away. It's a place where culinary excellence, a captivating ambiance, and exceptional service converge to create an unforgettable experience and an exceptional place for dining under the misting fans. If you're looking for a restaurant that combines mystery with gastronomic delight and an outdoor experience cooled by misting fans, Clandestino is a must-visit destination in Palm Springs.