Palm Springs Power Cooler Than Expected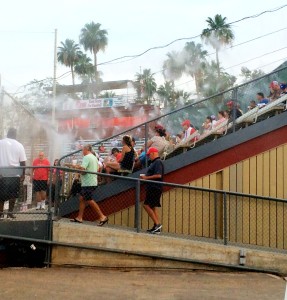 Palm Springs POWER Baseball is a summertime activity that is ironically comfortable from opening day in late May through July. You would think that the heat would be oppressive during home games located at Palm Springs Stadium. With average temperatures that climb from low triple digits past the "one hundred teens" were it not for their misting systems, fans would melt. Literally.
Instead they are treated to incredible baseball. A member of the Southern California Collegiate Baseball League, the POWER are in a respectable 2nd place as of this post @ 10-4-1, right behind the Canada A's @ 11-4. Where else are you going to be treated to cheering, concessions, the occasional foul ball, and a cool, comfortable location to spend a few hours in the middle of July??
Latest posts by Bryan Roe
(see all)